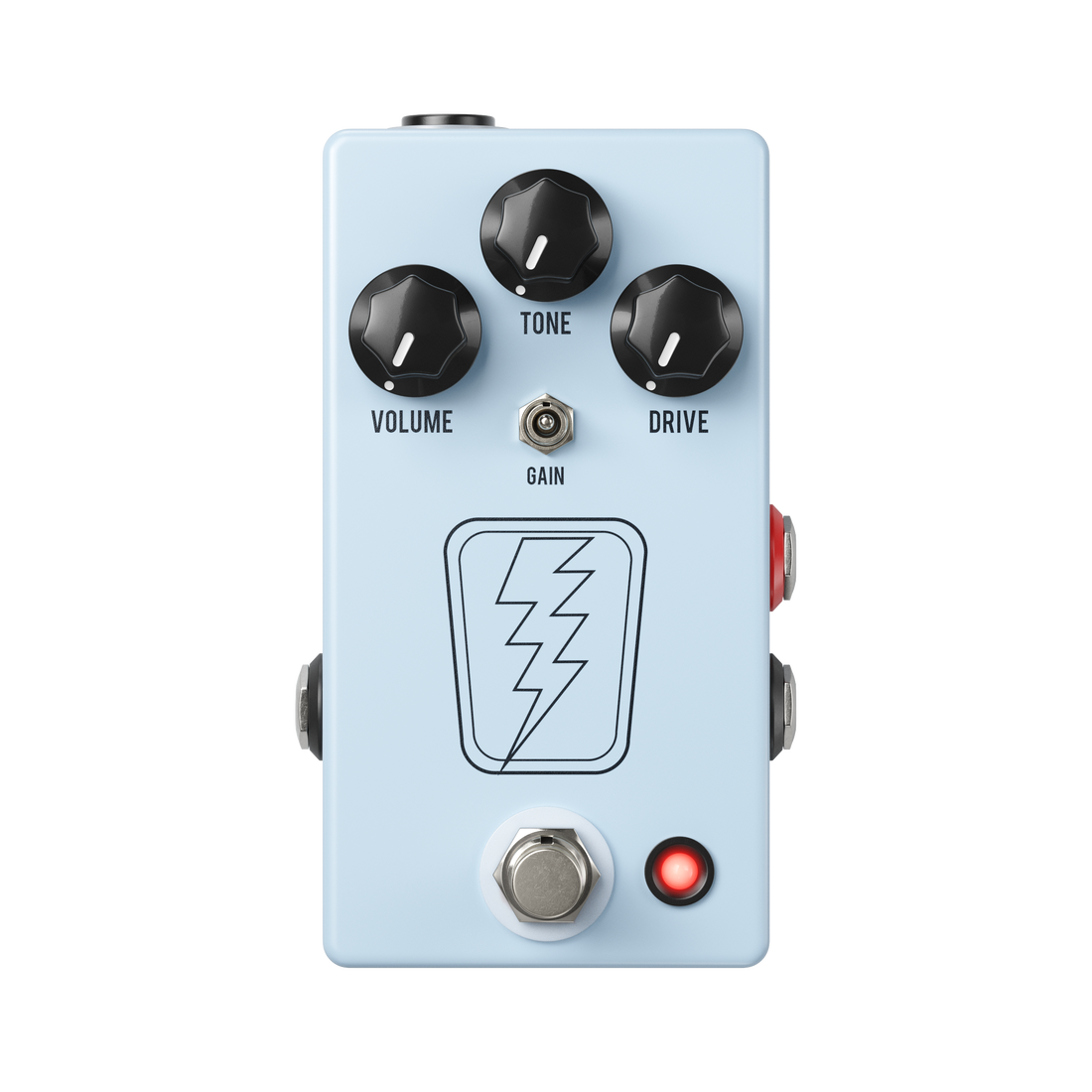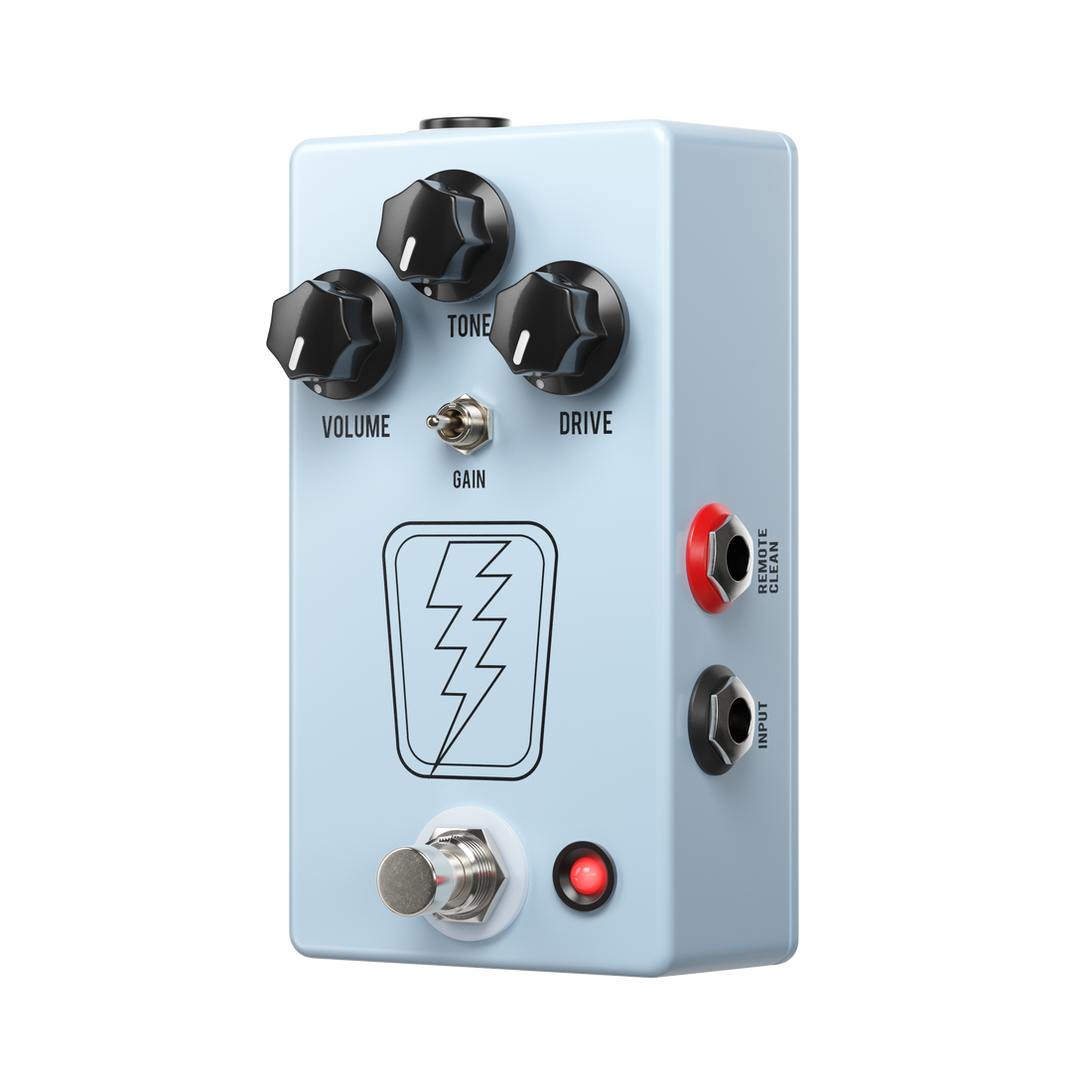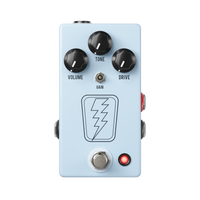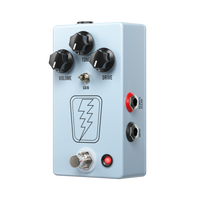 OVERDRIVE         
When we released the Superbolt in 2012, we never dreamed that it would become one of the most recognized and distinguished pedals in our history. Turns out there are guitarists all over the world that are loving the sixties-era Supro amp-in-a-box tones that this pedal churns out. In designing the Superbolt, we paid very close attention to the feel and sound that made the original amps the go-to combos for players like Jimmy Page, Brian Setzer, and Switchfoot's Drew Shirley. And with the SuperBolt Version 2, we've upped the ante by giving you access to our versatile Gain boost circuit via the front-mounted toggle or our own JHS Red Remote footswitch (sold separately).
VINTAGE AMP TONES
If you want to know what our SuperBolt V2 is capable of, just listen to the opening chord stabs of Led Zeppelin's debut album. A more iconic rock tone there isn't. And though the cranked sixties Supro amp tones Jimmy Page deployed will go down as legend, those sounds are only the beginning of what the SuperBolt V2 is capable of.
- Tones based on the clear and gritty tones of sixties Supro tube amps
- Drive knob acts in a similar fashion to the volume controls on the old amplifiers
- Tube rectifier-like sag increases as the Drive control is turned up
- Tone control is usable throughout the whole range
MORE VERSATILE THAN MEETS THE EYE
Yes, when you step on the SuperBolt V2, your tone will be transformed into the glorious tones of classic rock's heyday. But there's much more under the hood than Jimmy's Tele-driven rock. Back off on the Drive and Tone controls, and you'll immediately find yourself digging into your best smokey Chicago blues licks. Or keep that drive low but crank the Volume, and you're able to boost any amp into harmonically rich submission.
- Tone control takes you from warm and mellow to cutting and aggressive, without ever losing its musicality
- Internally converts 9V to 18V for a huge amount of headroom and punchy output
- Gain knob sweeps between darn-near-clean and amp in full-meltdown mode
TWO FOOTSWITCHABLE GAIN LEVELS
By pairing your SuperBolt V2 with the JHS Red Remote (sold separately), you're able to access the front toggle's gritty higher-gain settings on the fly. It's like having two SuperBolts in one pedalboard-friendly package.
- Switch to a more powerful sound with enhanced low end and grit
- Plug in your JHS Red Remote to switch between the two voices with a tap of your toe
- Handy LED changes from blue to red, indicating the status of the boost circuit
VERSION HISTORY
V1 = Three controls; Hi/Lo toggle; early stamped units may have a three-stage lighting bolt icon, but most have a four-stage bolt icon.
V2 = Replaced Hi/Lo toggle with a Gain Toggle; added Red Remote system.
THIS PEDAL REQUIRES STANDARD 9V DC CENTER NEGATIVE POWER, CONSUMES 3MA, AND MEASURES 2.2" X 4.8" X 1.6".